Digitalization, standardization, process control
Are you also facing the challenge of making your laboratory ready for the future? Then you have certainly dealt with the above topics and discovered that establishing a networked and automated laboratory environment is anything but easy. A smooth transfer of individual manual workflows into a fully automated process often fails because different devices and software are not compatible with each other. Siloed solutions always require manual intervention and prevent an efficient workflow.
We have recognized these problems and want to support you. From the simple integration and remote control of individual laboratory devices to the complete automation of complex processes: With the Hei-PROCESS variants, we will find the right solution for your requirements.
Your advantages at a glance:
✓ Control all processes in a scalable way – from research and development to production.
✓ Manage processes with a single user interface – regardless of scope and complexity.
✓ Easily integrate new and existing devices – also from other manufacturers.
Thanks to the control of your devices via our powerful web application, our processing automation solutions cover all complexities: from individual laboratory equipment for simple processes to fully integrated customer-specific solutions. So, starting from already existing Heidolph devices with RS 232 interfaces to application-specific developed devices from our partner OSPIN, you can control all processes in the same cloud solution.
You can get started easily - without a complex server solution or software installation on each individual device:
Connect your already existing Heidolph devices to the OSPIN Gateway via RS 232
Control and monitor your devices and processes from any browser
No loss of time when transferring and combining data from the various devices
Easy reproduction of your results
Programmed process execution instead of manual status changes on the device
Time savings through automatic documentation of all process information
Connect your Heidolph devices within a process chain to create new functionalities – for example a pH controller from a pH sensor coupled with a pump – and thus control your processes via several parameters.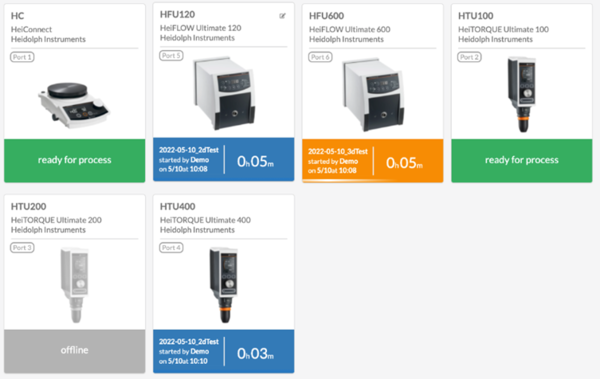 Many devices, one interface
Monitor and control your entire network of devices from one dashboard, whether at home or in the office.
Optimization of process technology
The easy-to-use, powerful interface allows you to fully focus on your research. The OSPIN Web App takes care of the rest and saves the entire team countless hours of working time.
The perfect introduction to process automation – powerful enough to handle even the most complex applications. No complicated setup or installation – only a browser is required.
Connect to your devices anywhere, anytime!
Control processes of any complexity:
Processes consist of individual phases, as in a cooking recipe, so that each sub-step can be easily automated (phase-based programming).
In each phase, the setpoint of the various device parameters (e.B. speed, temperature,...) can be changed
Repeating phases can be grouped into loops, which are then executed for a defined number of cycles
Ad-hoc process changes are possible at any time and are automatically tracked
Full data logging
GMP certification possible
Easy user rights and device management
Three different levels of complexity, depending on prior knowledge and requirements:

| | | | | |
| --- | --- | --- | --- | --- |
| Hei-PROCESS Core | | Hei-PROCESS Expert | | Hei-PROCESS Ultimate |
| Control individual Heidolph devices via any browser and let the OSPIN Web App automatically document every part of your process. | | The OSPIN Web App controls the processes of interconnected Heidolph devices, allowing new functionalities to be created and more process parameters to be controlled. | | Freely combine Heidolph and 3rd party devices via plug-and-play to meet your changing requirements. |
---
| | | | |
| --- | --- | --- | --- |
| Function | Core | Expert | Ultimate |
| Recipe-based process control | x | x | x |
| Automatic data logging | x | x | x |
| Remote control of individual devices | x | x | x |
| Collaboration of multiple devices in a predefined combination | | x | x |
| Active control of parameters | | x | x |
| Integration of 3rd party devices | | o | x |
| Free configuration of the device network by the user | | | x |
---
x = Included in solution, o = Possible on request
Do you need support on the way to automating your laboratory processes?
Together with our partner OSPIN, we analyze your workflows and find the right processing solution for you!
Contact us via the inquiry form.