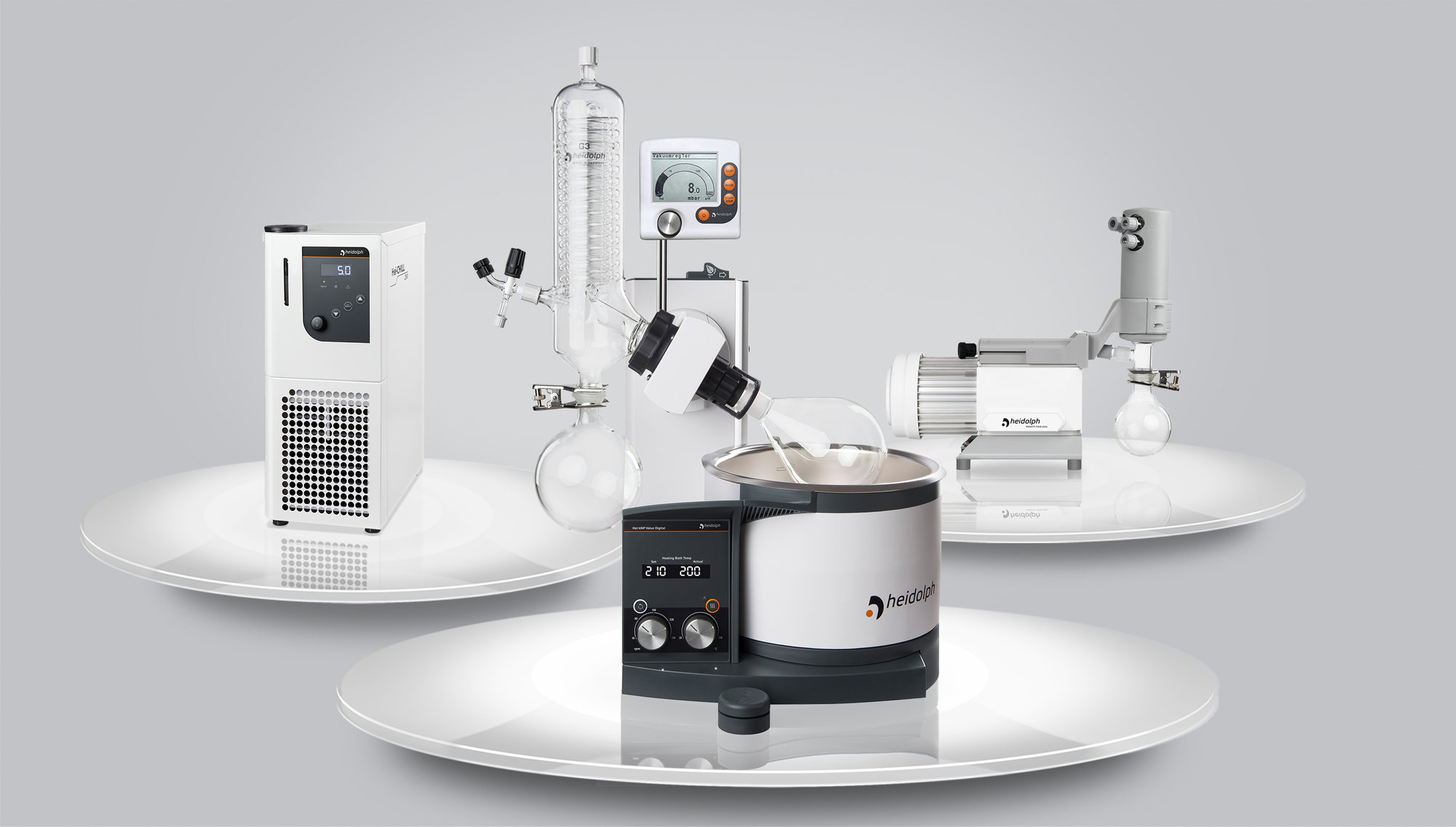 Discover our Hei-VAP Rotary Evaporators
"Intelligent Distillation" proofs the difference in separation of samples, in evaporation of solvents and that quality is no coincidence. The rotary evaporators of our Hei-VAP series create new milestones within vacuum evaporation - a well-designed concept, unmatched tightness and uncompromising high quality.
A variety of additionally options makes the Heidolph rotary evaporator the best solution for your individual requirements. You reach up to 40 % higher evaporation rates with our new XL condensers and achieve purest results through our innovative seal system, which enables a stable evaporation process and therefore overcomes any pharmaceutical or chemical challenge.
Convince yourself from the quality, performance and reliability of our rotary evaporators, which we exclusively develop and manufacture in Germany only.
Hei-CHILL - Heidolphs New Chillers


The new circulation chillers of the Hei-CHILL Benchtop series are predestined for reliable continuous operation in your laboratory. You have the choice between different models of 250 to 1,200 watts of cooling capacity. The magnetic coupling of the pump and electric motor make the Hei-CHILL models a reliable and robust cooler with optimum performance.

Request you non-binding quote Learn more

---


Also new at Heidolph:
Hei-CHILL for large scale rotary evaporators
Hei-VAC Control - The Standalone Vacuumcontroller
The digital vacuum controller is very robust and durable thanks to the high-end ceramic vacuum sensor. Among other things, the delivery includes the vacuum control valve, which makes the Hei-VAC a plug and play controller with no hidden costs. Use the compact controller without any additional adapters or accessories, for all Hei-VAP Value and Advantage models. This means that you can quickly and easily control all common vacuum pumps or your house vacuum, digitally and precisely.

Hei-VAC Control mounted on a
Hei-VAP Rotary Evaporator


Hei-VAC Control as stand-alone beside the Hei-VAP Rotary Evaporator
Valve-Controlled Vacuum Pumps - Perfect Combination with the Hei-VAC Control
To complete the system, you will still find our Rotavac vacuum pumps in the Heidolph range. Our pumps provide years of powerful, reliable and precise performance.
| | |
| --- | --- |
| | |
| | |
| Suction capacity for up to three rotary evaporators at the same time | Recommended for solvents with low or medium boiling points |
| Request quote | Request quote |